Construction Update: Los Alamitos
Golden State Water Provides Update On $2.8 Million Howard Avenue Area Main Replacement Project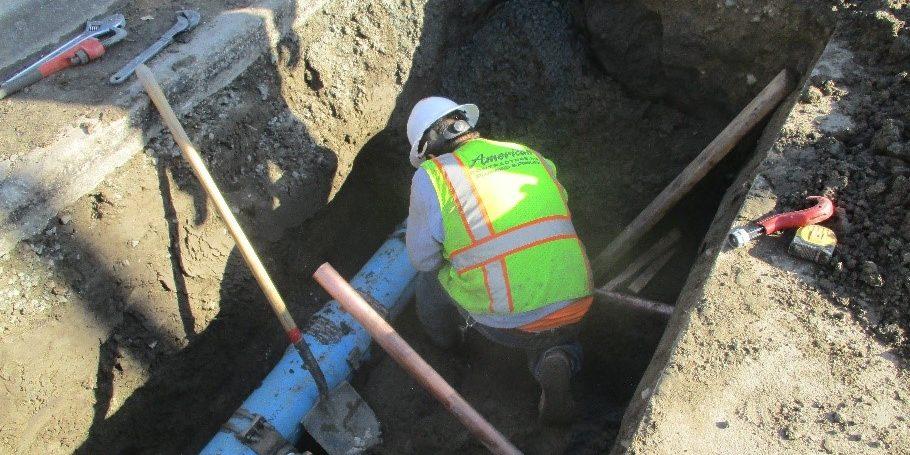 Golden State Water Company (Golden State Water) would like to update customers in the Los Alamitos community regarding a $2.8 million project in the Howard Avenue area that included installation of approximately 7,500 feet of new 8-inch PVC pipelines, 181 new copper water services and seven new fire hydrants to ensure Golden State Water can continue providing reliable water service to local customers.
Phase 1
We appreciate the community's patience as contractors worked to complete the first phase of the project, which was delayed by wet weather and other unanticipated challenges. Phase 1 included the installation of new pipelines shown as solid blue lines in the exhibit below, along with new fire hydrants and service lines from mains to new meter boxes along Howard Avenue and Green Avenue frontage. Golden State Water expects contractors to have Phase 1 work completed in the coming weeks.
Phase 2 (Properties in Yellow Shaded Area of Exhibit Below)
The second phase of construction is scheduled to begin in August 2019 and run through January 2020. During Phase 2, contractors will work to construct individual house lines to the new meter locations along the street frontage in order to abandon the old alleyway main located north of Howard Avenue between Reagan and Bloomfield.
Letter notices will be sent to affected property owners in May/June with a fixture count form to determine the proper meter and service line sizing. A general construction notice, information and exhibits will be posted online at least 30 days prior to the notice to proceed. Property site meetings with property owners or assigned representatives will occur in June/July to coordinate house line locations and connection points. Tenants will be notified of the construction activity and service interruptions at least one week in advance of the onsite construction.
Phase 3 (Properties in Blue Shaded Area of Exhibit Below)
The schedule for the final phase of construction has not yet been determined. During Phase 3, contractors will work to construct house lines and abandon the alleyway main located north of Howard between Bloomfield Street and Lexington Drive.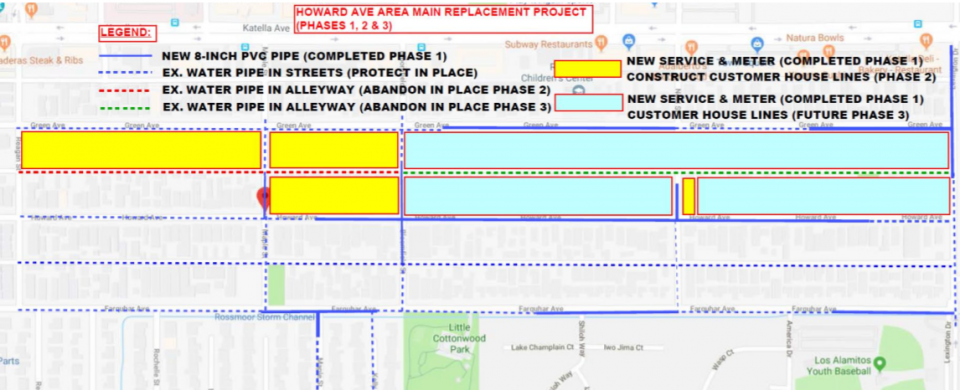 Phase 2 Project Details
Construction work will take place within each private property (outside the buildings), along the frontage parkway and sidewalks and in the back alleyway of each property along Green Avenue, between Bloomfield Street and Reagan Street; along Howard Avenue, between Maple Street and Bloomfield Street; and on the east side of Noel Street between Howard Avenue and the alleyway north of Howard Avenue.
Construction activity will generally take place Monday through Friday, between the working hours of 7:30 a.m. and 5 p.m. No work is scheduled for weekends or holidays and any scheduled service interruptions will be noticed 48 hours in advance.
Construction contractors may begin arriving to the site beforehand, but no work will begin before 7:30 a.m. In an effort to reduce the impact to the affected customers, occasionally, work may be completed outside of the permitted working hours with prior agency approval and with prior notification to the affected customers.
Streets will remain open to traffic during the construction period, but traffic and parking may be restricted and access to driveways may be limited for short durations of time.
Please expect an increased level of noise and traffic during the construction period.
Golden State Water appreciates the community's patience as it completes this important project. Proactive system maintenance and timely replacements have always been an emphasis for Golden State Water, and we continually invest to improve our water systems by upgrading both treatment and delivery systems in all service territories.
Any questions or concerns should be directed to our friendly and knowledgeable 24-hour Customer Service Center at (800) 999-4033. A customer service representative will answer questions or arrange for direct correspondence with the project construction manager.